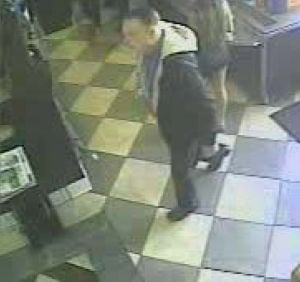 Police ask for help finding suspect
Staff report For updates on this story, stay tuned to starlocalmedia.com. | Updated 2 weeks ago
UPDATE, 4:45 p.m. Friday:
The man has been located, she said, but no arrest had been made as of late-afternoon Friday.
If arrested, the man could be charged with indecency with a child.
Original, 11:15 a.m. Friday:
Police are looking for a man they believe inappropriately touched a girl at McDonald's last month.
The victim told police an elderly man touched her breast and buttocks over her clothing the afternoon of Feb. 15 at the McDonald's at 402 N. Central Expressway in McKinney. Security cameras showed the suspect speaking to a woman wearing a red shirt at the restaurant.
The suspect is a white male in his late 60s or early 70s, weighs between 215 and 235 pounds and has brownish-grey hair. He was last seen wearing a dark hooded jacket with light-colored lining, dark pants and dark shoes. Police believe he was driving a dark-colored, four-door sedan.
Anyone with information regarding this incident or who can identify the suspect should contact Sgt. Damian Guerrero at 972-547-2711 or dguerrero@mckinneytexas.org.